Maintain your
healthy lifestyle
Built from the Inside Out
BCN Supplements mission is to help build you from the inside out. Whether you want healthier joints, skin, hair and/or nails, or simply support muscle recovery, we want to help you achieve your goals.
Our objective is for both men and women to benefit from all the perks our product provides. We believe that having a balance with our internal and external health is necessary to not just look good, but feel good.
Elevate Your Health and Wellness
BCN Supplements can offer numerous benefits to support overall health and wellness. The collagen, pre-workout and  immune booster supplements available are designed to provide specific health benefits that support various aspects of health and wellness.
Whether you are looking to improve skin health, support your workouts, or boost your immune system, these supplements can provide the extra support you need to achieve your health and wellness goals. With high-quality, natural ingredients, you can trust that our supplements are safe, effective, and backed by science.
Look and feel your best with our hydrolyzed collagen powder, packed with collagen peptides, hyaluronic acid, vitamin c and biotin to give you a boost both inside and out! Protect your joint health, skin, hair & nails by adding our flavorless collagen to your routine.
•
Grassfed bovine collagen
•
Natural
•
Non-GMO
•
No artificial flavoring or sweeteners
•
No artificial dyes.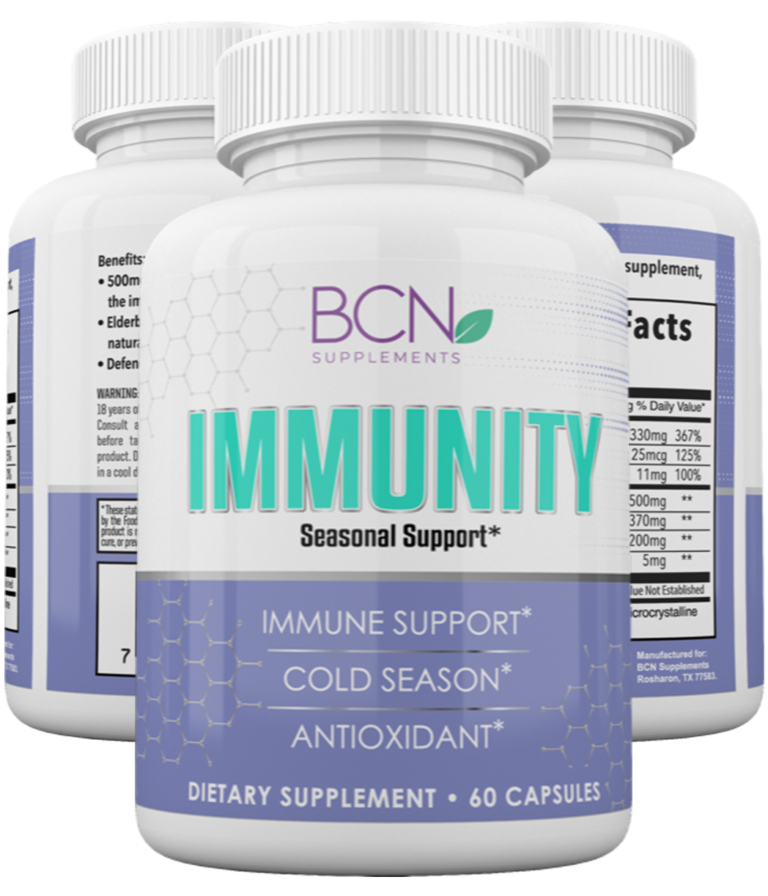 Immunity is a 7-1 supplement that supports your immune system while improving your overall health.
•
Non-GMO
•
Veggie capsules
•
All Natural
•
Vegan Friendly
As a dietary supplement, take one (1) scoop with 8-12 oz of water. New users may wish to assess tolerance with 1/2 scoop.
•
Natural
•
Non-GMO
•
No artificial flavoring or sweeteners
•
No artificial dyes
•
Naturally sweetened
Our supplements are made with natural, high-quality ingredients and are backed by scientific research for safety and effectiveness. You can trust that our collagen and immune booster supplements are safe for daily use and will deliver results to help you achieve your health and wellness goals.
Helps boost immune
system.
Decreases cholesterol and blood sugar levels in the body.
Helps in treating intestinal problems.
Very rich in antioxidants, vitamins and minerals.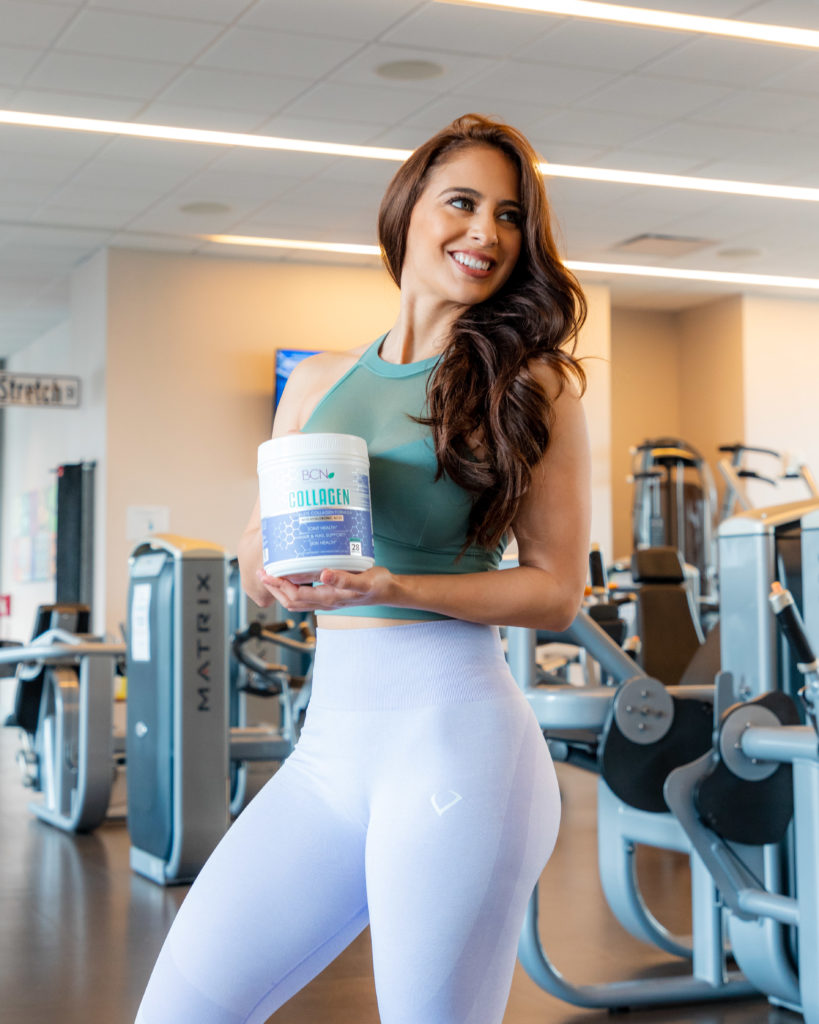 Be confident with your body
Achieving a healthy and fit body requires dedication, hard work, and a positive mindset. Supplementing with high-quality, natural ingredients can also play a vital role in supporting your fitness goals.
By choosing BCN Supplements, you can help ensure that your body is getting the nutrients it needs to perform at its best. When combined with a balanced diet and regular exercise, these supplements can help you feel confident and proud of the progress you've made. So, embrace your beauty, empower your workouts, and be confident with your body, both inside and out.
Remember, confidence is not about being perfect, it's about embracing who you are and what you are capable of. So, be proud of your body and let it be a reflection of your hard work, determination, and commitment to health and wellness.
Rejuvenate Your Body from Within.
Benefits of BCN Collagen Supplement
Collagen supplements are a popular and effective way to support skin health, joint mobility, and overall wellness. Collagen is a naturally occurring protein that is essential for the strength and elasticity of our skin, hair, nails, and connective tissues. As we age, our bodies produce less collagen, leading to signs of aging and decreased joint mobility. By supplementing with collagen, you can help replenish these levels, promoting a youthful appearance, and improved joint health.
Whether you are looking to reduce fine lines and wrinkles, improve the health of your hair and nails, or support joint function, BCN Collagen supplement can help you achieve your goals and support your overall health and wellness.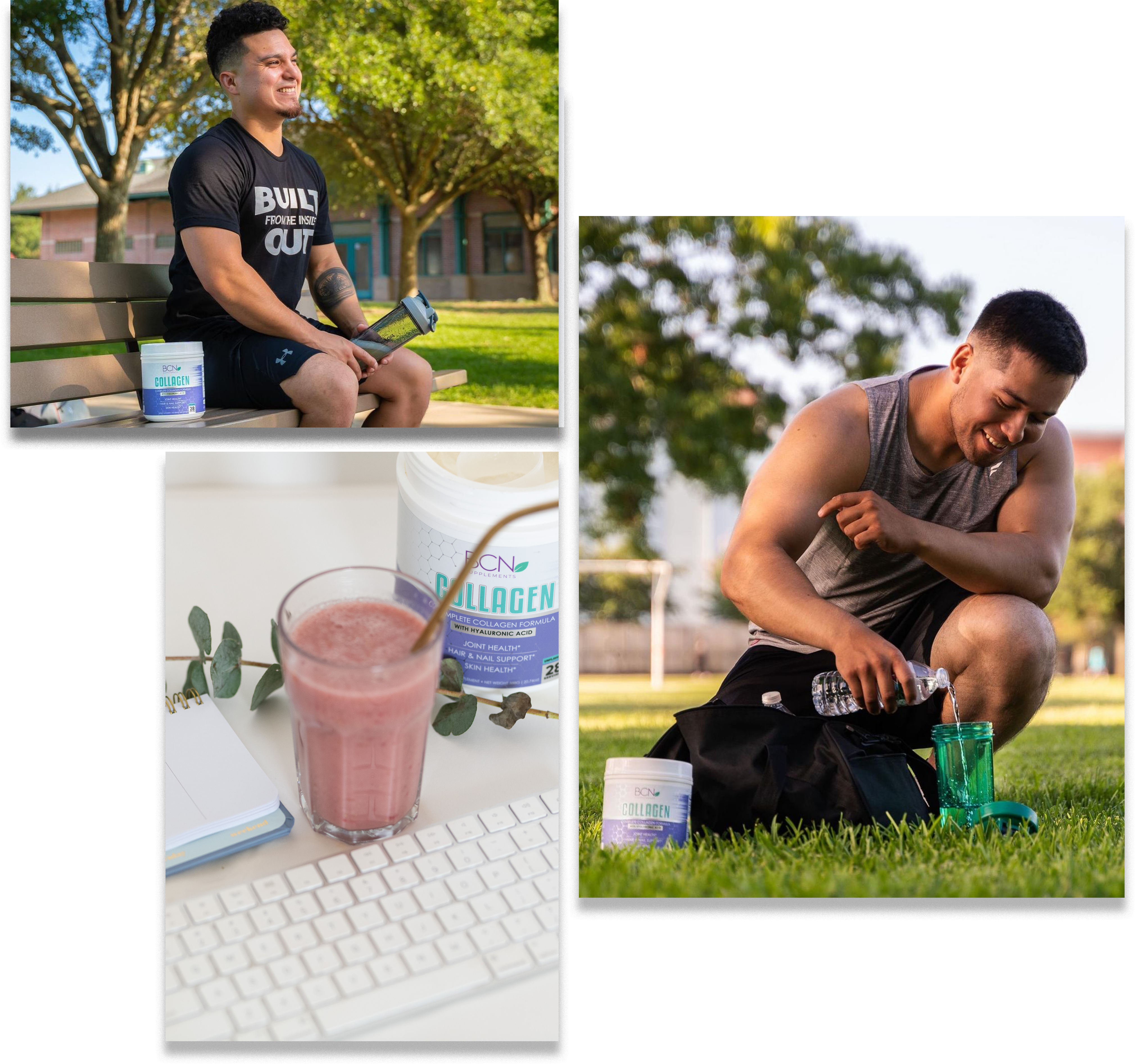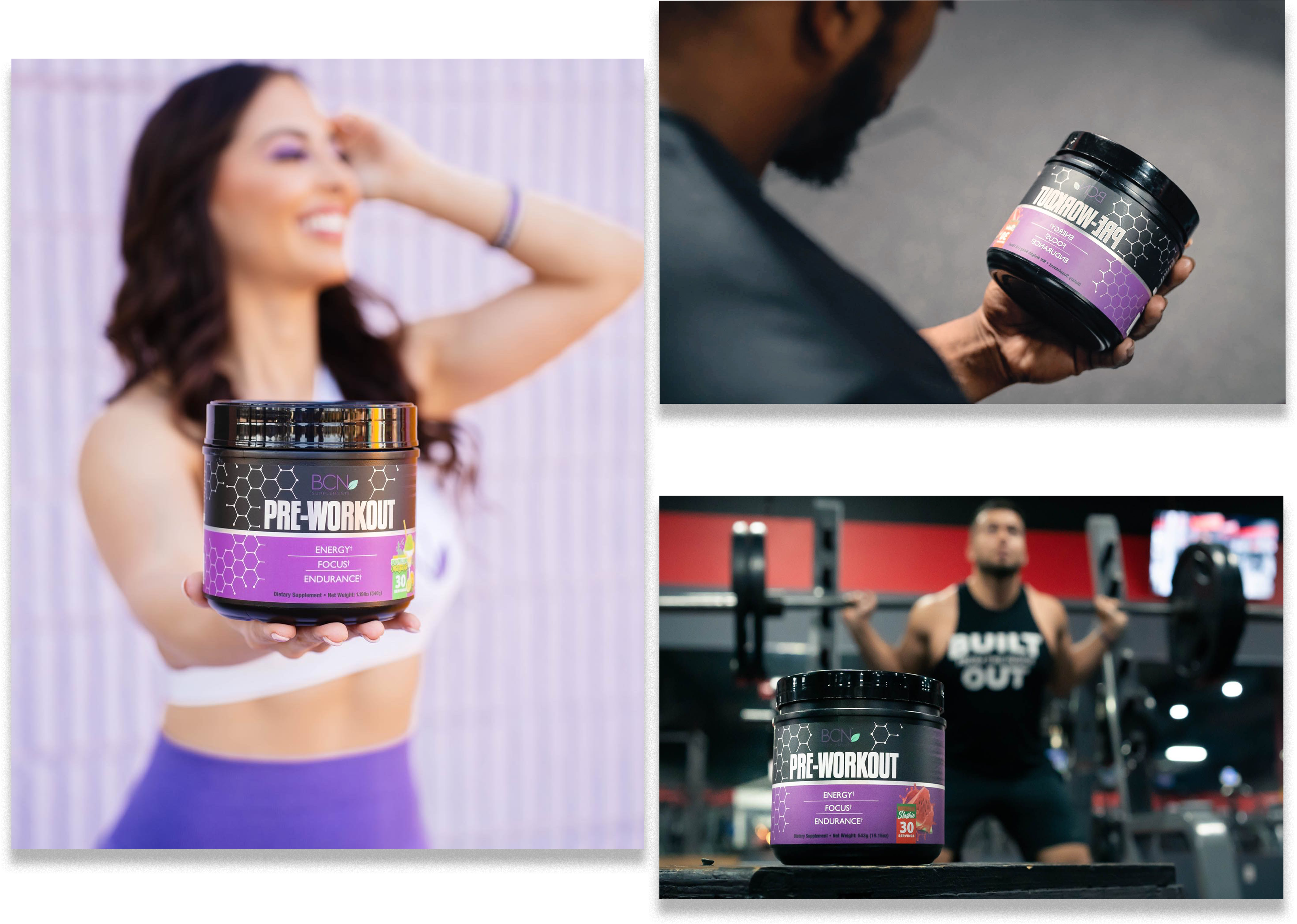 Benefits of BCN Pre-Workout Supplement
BCN Pre-Workout supplements are specially designed to help boost your energy, endurance, and focus before a workout. Whether you are looking to build muscle, increase strength, or improve your athletic performance, these supplements can provide the extra support you need to push yourself harder and reach your goals.
Whether you are a seasoned athlete or just starting your fitness journey, BCN Pre-Workout supplement can help you get the most out of your workouts and achieve your fitness goals. Not recommended for daily intake.
Boost Your Immune System.
Benefits of BCN Immunity Supplement
BCN Immunity supplement contains a powerful blend of essential vitamins and minerals, including Vitamin C, Zinc, Vitamin D3, Garlic Bulb, Elderberry, Echinacea, and Black Pepper, to boost your immune system. These carefully selected ingredients work together to boost the body's natural defenses and reduce the risk of illness.
Whether you're looking to protect against seasonal threats or simply maintain optimal health, our immune booster supplements can help give you the extra support you need. With easy-to-take pills, you can easily incorporate this supplement into your daily routine and feel confident in your immune health. Don't let sickness hold you back, support your immune system with our high-quality, effective immune booster supplement.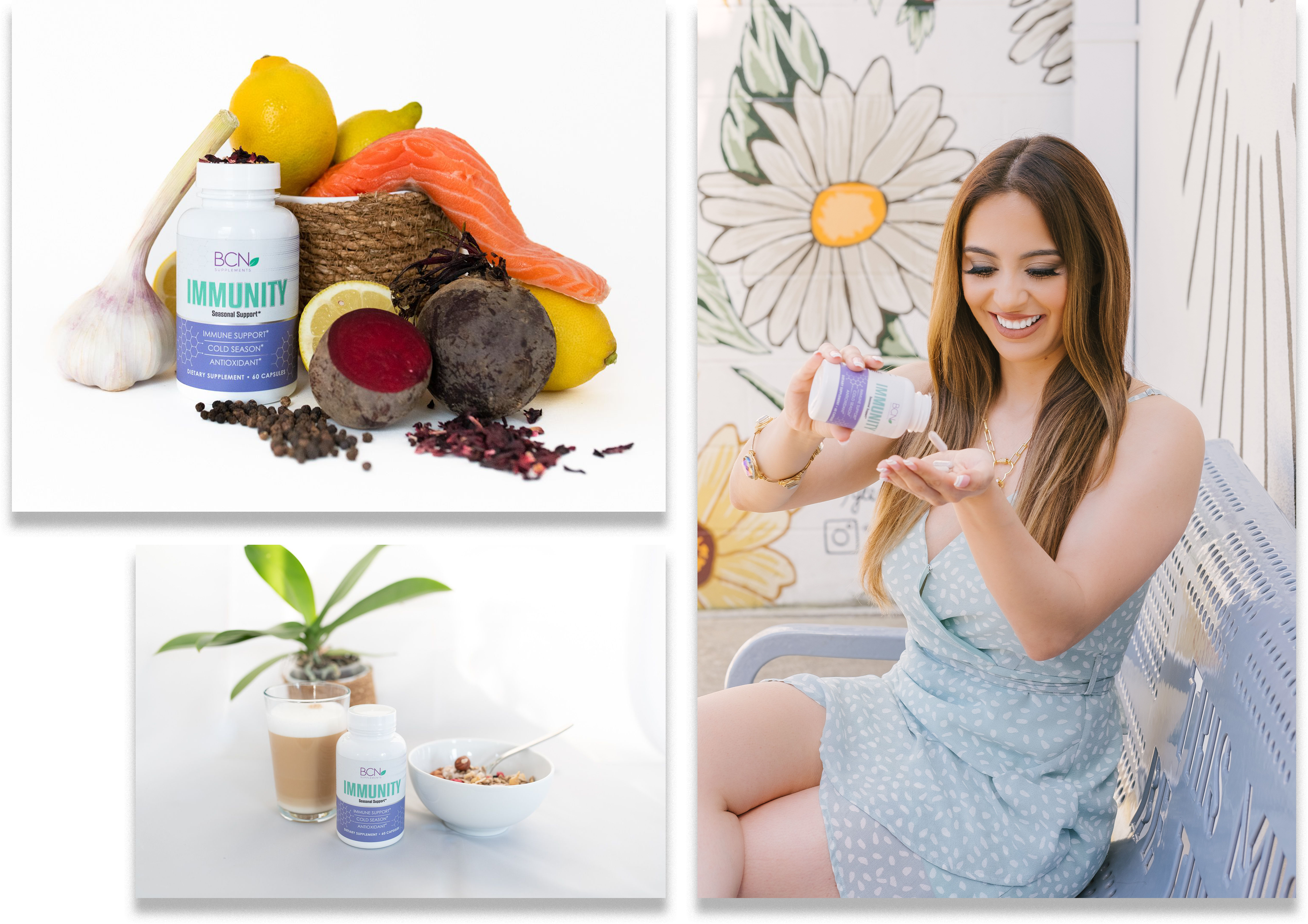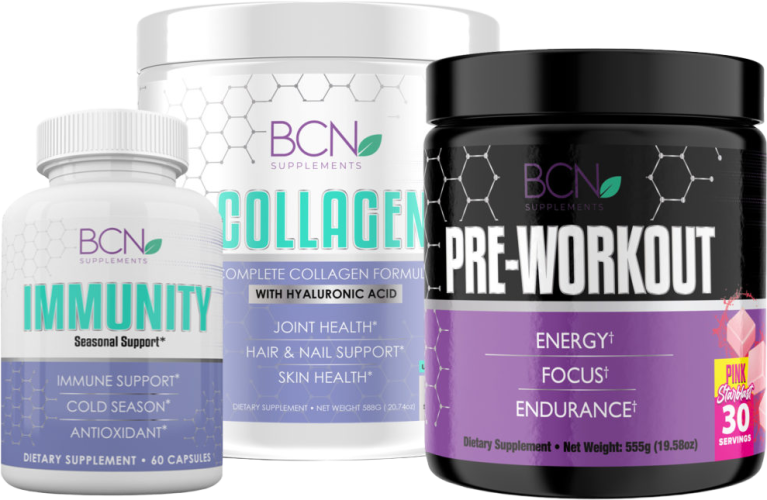 Transform Your Health & Well-being with BCN Supplements​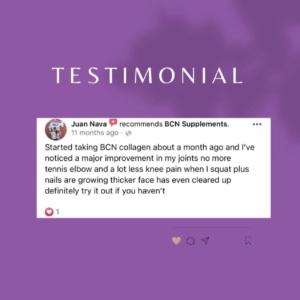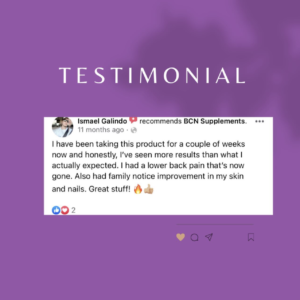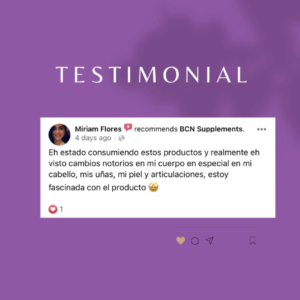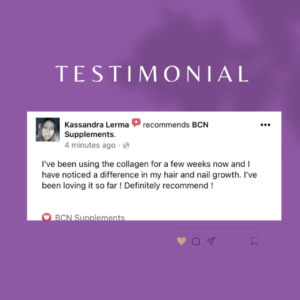 Kassandra Lerma
BCN
I've been using the collagen for a few weeks now and I have noticed a difference in my hair and nail growth. I've been loving it so far! Definitely recommend! BCN Supplements
Claudia Greene
BCN
These are my results after taking collagen for I month!! I work really hard to hide these crazy baby hairs every day but I definitely see a lot of growth happening! I had lost sooo much hair along my hairline about 4 months postpartum (top pic) & was slowly starting to grow back (middle pic) but you can see a big difference in the last picture just a month later! Just wanted to share because your product is working and you're helping more people than you think!
Miriam Flores
BCN
Eh estado consumiendo estos productos y realmente eh visto cambios notorios en mi cuerpo en especial en mi cabello, mis uñas, mi piel y articulaciones, estoy fascinada con el producto
Ismael Galindo
BCN
I have been taking this product for a couple of weeks now and honestly, I've seen more results than what I actually expected. I had a lower back pain that's now gone. Also had family notice improvement in my skin and nails. Great stuff!
Juan Nava
BCN
Started taking BCN collagen about a month ago and I've noticed a major improvement in my joints no more tennis elbow and a lot less knee pain when I squat plus nails are growing thicker face has even cleared up definitely try it out if you haven't
Sign up for updates & promotions